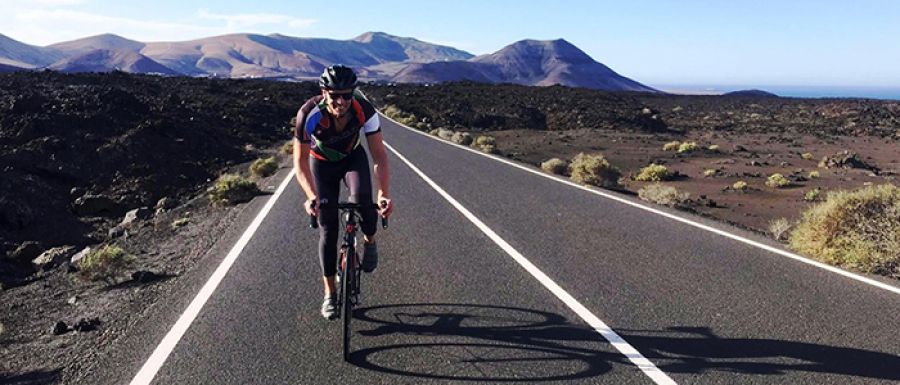 Find out why Lanzarote is the ideal destination for triathletes to train in winter
The Canary Islands are a reference for the world of sport. Lanzarote, the most easterly island of the Canary archipelago, is ideal for training in winter. It is possible to
cycle around Lanzarote
all year round, not only in summer, thanks to the excellent weather conditions here.
In fact, amateur and professional cyclists choose Lanzarote as a winter training destination for several reasons, which are listed below.
Perfect climate
This is one of the main reasons for cycling in Lanzarote in winter, as it has an average annual temperature of 24°: during the winter the average is 21° and in summer it is 26°. The climate is therefore subtropical.
This makes it possible for triathletes to train outdoors all year round in swimming, running and cycling. There are some extremely windy days, but training is possible almost all season long.
No wonder that athletes from all over the world choose Lanzarote for their pre-season training.
Special orography
Lanzarote is popularly known as the island of volcanoes because of the large number of volcanoes. Between Lanzarote and the islets La Graciosa, Montaña Clara and Alegranza, Roque del Este and Roque del Oeste, they form what is known as the Chinijo archipelago.
Its heights are rather modest, with its highest point reaching only 670 metres; however, its geography is full of slopes and peaks, ideal for
cycling training in Lanzarote
, working on endurance and strength.
Prodigious nature
Lanzarote by bike
is an adventure in every sense of the word. It is criss-crossed by volcanoes, by incredible protected natural spaces and surrounded by a wonderful coastline. At all levels, from the sea to the craters of the volcanoes, you can observe various unique sceneries to practice sport.
In these scenarios, triathletes can choose the trails that will lead them to the volcanoes, or choose the lush pine forests or rather the endless sand dunes.
The ocean
Not only is the climate mild all year round, but also the water temperature invites you to take a dip after
cycling in Lanzarote
, to tone your muscles and recover after a demanding workout.
The coasts of Lanzarote are perfect for swimming; in addition, the surrounding waters are rich in minerals and nutrients, and the sea breeze that caresses and maintains the good temperature is loaded with negative ions that favor body relaxation and has detoxifying effects.
Events and sports centers
On an international level, Lanzarote's most important event is undoubtedly the Iron Man, a triathlon competition considered to be the toughest and most demanding Iron Man in the world.
The Lanzarote Iron Man also has 40 qualifying places for the Iron Man World Championship in Hawaii, so that gives you an idea.
This event, and other competitions, attract thousands of tourists and athletes every year, not only to participate in them but also for pre-season training.
As for Lanzarote's sports centers, one of the most important is Club La Santa, with swimming training facilities (three heated Olympic-size swimming pools), as well as road and mountain biking routes.
There is also the Sands Beach Resort (where we have one of our bike rental shops), but in reality Lanzarote has a cycling infrastructure that triathletes consider ideal.
Famous athletes and professional teams
Proof that
Lanzarote is perfect for cycling
all year round is the presence of important triathletes such as Chema Martínez, Iván Raña or Patrick Lange, who repeat their visits to the island of volcanoes.
But it is not only athletes of the importance of these mentioned, professional triathlon teams visit Lanzarote to train in winter, such as the BMC Vifit Sport, and even some Formula 1 drivers, such as Felipe Massa, Fernando Alonso or Jason Button, choose Lanzarote to complete their training.
Do you understand why Lanzarote is the destination of choice for more and more triathletes around the world?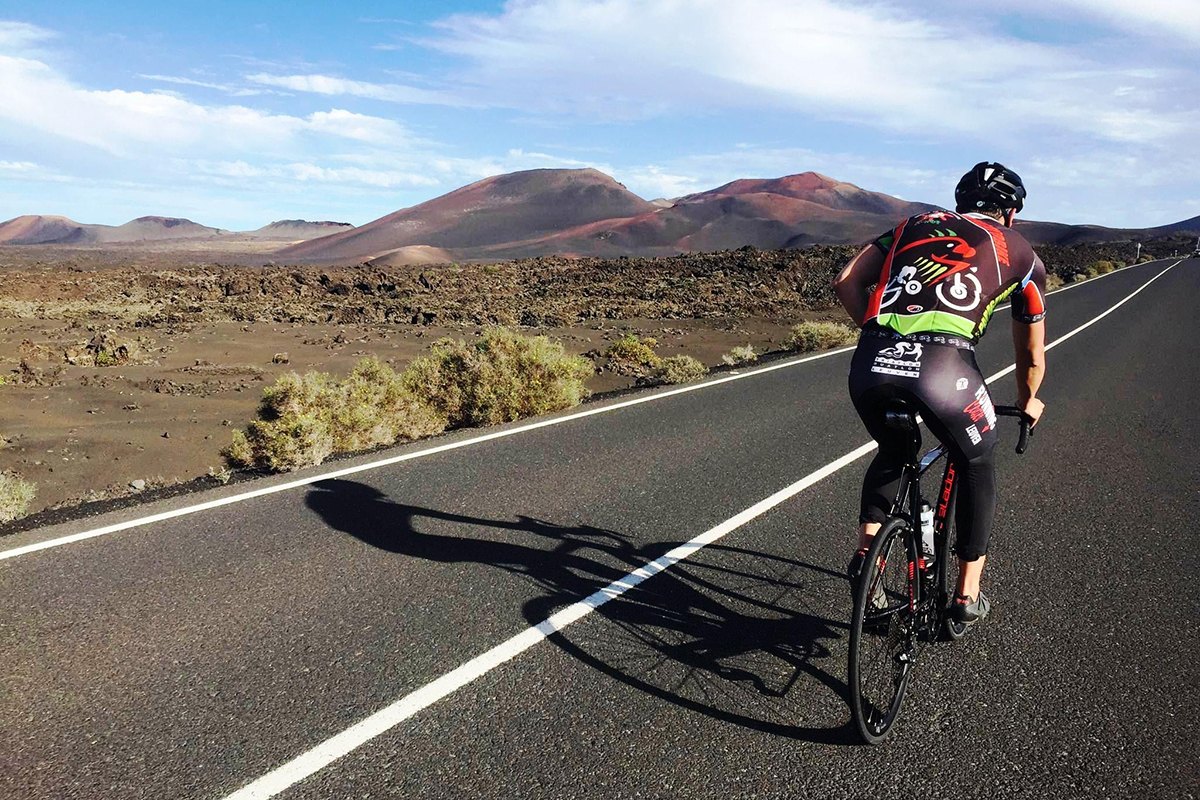 Are you coming to train with us in Lanzarote?
If you are thinking of coming to
Lanzarote
to prepare your next sporting events, and you already know the dates of when you will visit the island, do not hesitate to contact us, we will organize the most amazing cycling trips so you can train and discover the island of Lanzarote in an original and different way.
Do not hesitate to plan your trip around Lanzarote on one of our rental bikes, we will adjust it to your needs
.
Remember, we take our road bikes wherever you indicate us
, so that you don't waste time looking for a place to
rent a bike
and you can save it for your
cycling trips around Lanzarote
.
Contact us
, and we will put at your disposal the best team and the ideal material so that you can enjoy your stay on the island.
21 years of experience in the world of cycling are our guarantee.