22/04/2021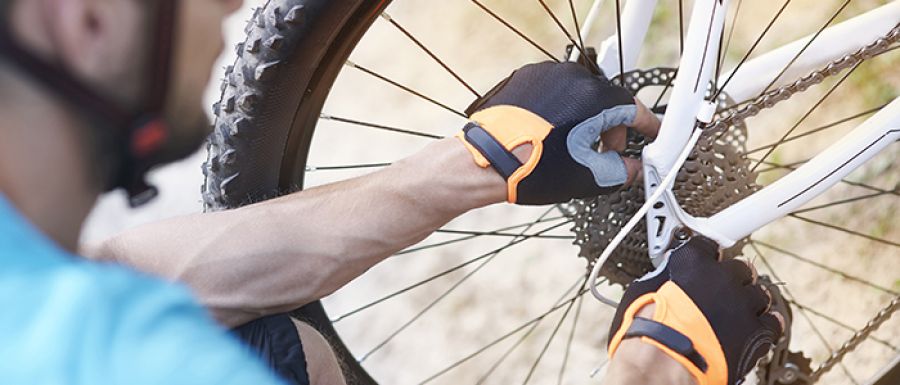 It can happen
, and in fact it is very common when you are not an experienced cyclist, that
while cycling around Lanzarote a puncture in one of the wheels of your bike can ruin your ride
. It is very common that any of the wheels of the bike can get punctured by riding on a sharp piece of metal or glass.
For this reason,
you should carry with you the indispensable bicycle multi-tools
, with which you will
solve the problem in a few minutes
. The longer the route, the more prepared you should be.
If you are not very experienced with your bike, I advise you to check the type of mechanism that secures the wheels so that you know how to remove them. The first thing you will do to resolve the puncture is to remove the affected wheel. Most bikes have no major problems removing the wheels if you are familiar with the mechanism.
It is advisable to turn the bike completely upside down and rest it on the saddle and handlebars, with the wheels facing upwards. This is the most comfortable position to remove the wheels, bearing in mind that we are on the road solving the problem.
It is very important, when it is time to remove the rear wheel to repair the puncture, to place the chain on the smallest sprocket. In this way, the wheel can be easily removed and reattached. Otherwise, the job will be much more difficult. Many beginner cyclists have had great difficulty removing or mounting the rear wheel of the bike. However, it is very easy to do if you take a few minutes to find out how to do it.
Bicycle Multi-tools - Spanner
Many low-end bicycles secure the wheels to the frame with bolts. With the adjustable spanner you can easily loosen the bolts, even if they are of different sizes. On the other hand, on mid-range bikes you no longer need a spanner, because they come with a safety lever for securing the wheels. For this reason it is important that you check the mechanism that your bike has.
In any case,
it is important to have it among your bike multi-tools
when you are
cycling around Lanzarote
. You should buy a small spanner and take it with you wherever you go with your bike, as it can get you out of trouble.
Bicycle multi-tools - Levers
Detachable tire levers are essential for removing the tire completely from the wheel without causing any damage.
By pulling the tire apart, you can remove the inner tube from the wheel and repair the puncture. It is normal to use two tire levers to remove the tire from the wheel.
While you're
cycling around Lanzarote
, don't forget to take your tire levers with you and fix any punctures. A tire lever is a must in your
bike multi-tool kit
.
Bicycle multi-tools - Patch Kit
To continue
cycling around Lanzarote
you will need to apply the patch to the inner tube of your tire, at the exact spot of the puncture. It is essential that you take your puncture kit with you wherever you go. The patch kit fits in your trouser pocket.
Nowadays, quick patches are used, which do not require the use of glue beforehand. With the old patches you had to wait ten minutes for the patch to dry. With the quick patch, however, there is no more time to waste and the inner tube is ready to be put back on the wheel.
Bicycle multi-tools - Pneumatic pump
Last but not least, you must have a small pump to fill your inner tube with air. Nowadays you can get very portable and efficient models so that you won't have any problems when it comes to fixing a puncture.
There are models that are designed for various types of inner tube filling valves. In any case, it is not a bad idea to carry a small adapter with you so that you can have more alternatives for filling your tire with air.
Bicycle multi-tools - Spare inner tubes
It may be that it's not just a small puncture and the damage to the inner tube is more extensive. In this case, it is important that you carry a spare inner tube that fits your tire. A spare inner tube is very easy and convenient to carry with you.
With all the materials and tools mentioned above, you will not have any inconvenience and you will be able to continue enjoying the beautiful cycling routes in Lanzarote. All this doesn't take up much space or weight, but it will be a great help in case of a puncture that you don't know when or where it might happen.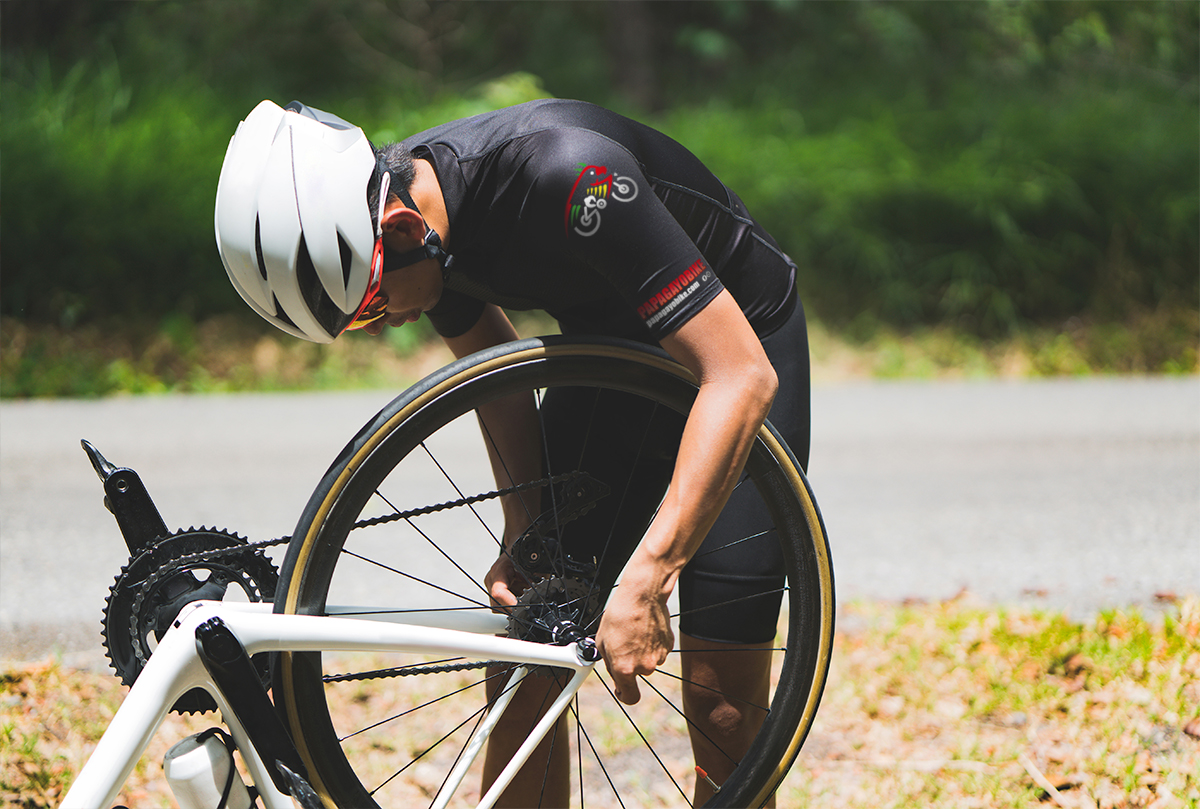 Are you coming to cycle around Lanzarote with us?
One of the
great advantages of renting one of our bicycles
is that we are always on the lookout for any mishap, you can enjoy
our roadside assistance service, solving any problem you may have on your route
.
Remember that, if you come to
Lanzarote for holidays
, we can organize the most amazing and safe excursions that you can live among volcanoes and on the roads of the island, discover the island of Lanzarote in a very original way.
Don't hesitate to plan your getaway in Lanzarote on one of our rental bikes
, we will adjust it to your needs.
All the rental material we use is disinfected after each use, in our shops you can find the necessary material to go out and pedal along the different routes that Lanzarote offers.
We offer a wide variety of bikes, from family bikes to high-end mountain and road bikes.
Remember, we take our road bikes wherever you indicate us
, so that you don't waste time looking for a place to
rent a bike
and you can save it for your
cycling trips around Lanzarote
.
Contact us
, and we will put at your disposal the best team and the ideal material so that you can enjoy your stay on the island.
21 years of experience in the world of cycling are our guarantee.